Assoc. Prof. Chen-Huei Chou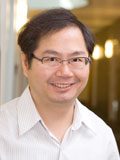 Assoc. Prof.
Chen-Huei Chou
College of Charleston, U.S.A
Chen-Huei Chou received the B.S. in Information and Computer Engineering from Chung Yuan Christian University, Taiwan, the M.S. in Computer Science and Information Engineering from National Cheng Kung University, Taiwan, the M.B.A. from the University of Illinois at Chicago, Chicago, Illinois, USA, and the Ph.D. in Management Information Systems from the University of Wisconsin-Milwaukee, Wisconsin, USA.
He is an Associate Professor of Information Management and Decision Sciences in the School of Business at the College of Charleston, SC, U.S.A. His research has been published in MIS journals and major conference proceedings, including MIS Quarterly, Journal of Association for Information Systems, Decision Support Systems, IEEE Transactions on Systems, Man, and Cybernetics, Computers in Human Behavior, Internet Research, and Journal of Information Systems and e-Business Management. His areas of interests include web design issues in disaster management, ontology development, Internet abuse in the workplace, text mining, data mining, knowledge management, and behavioral studies related to the use of IT.